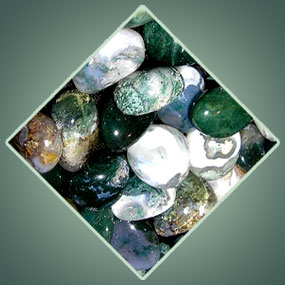 Agates are grounding stones. They help to obtain a better physical and emotional balance. They work to raise consciousness. Moss Gate builds self-confidence. Moss Agate Crystal connects one to Nature and new beginnings Translucent, transparent agate containing inclusions of minerals that look like moss or foliage. Improves ego and self-esteem, emotional balance and strengthens positive personality traits. Allows one to see all the beauty one's eyes touch.

Moss Agate gives cool energy to the Reproduction System, which helps dealing with Monthly Period Pain. It is also helpful for Uterus Cystitis, Keputihan and most effective for Freckled Skin. Moss Agate reduces sensitivity to weather and environmental pollutants.

Moss Agate is an aura protector that neutralizes fears and opens the mind and Be-ing to new ideas. For meditation, the clouds lead the mind into astral realms and expand consciousness. Eases emotional pain, aids creative visualization, increases trust and strength for earthly survival. Stimulates universal love. Connector to spirit guides, helps open communications with unseen entities. Helps you connect with nature spirits and the land.

Zodiac - Virgo
Planet - Moon
Element - Earth
Colors - Green, blue, red, yellow, brown
Corresponding Chakra: Sex Chakra, Solar Plexus and Heart Chakra